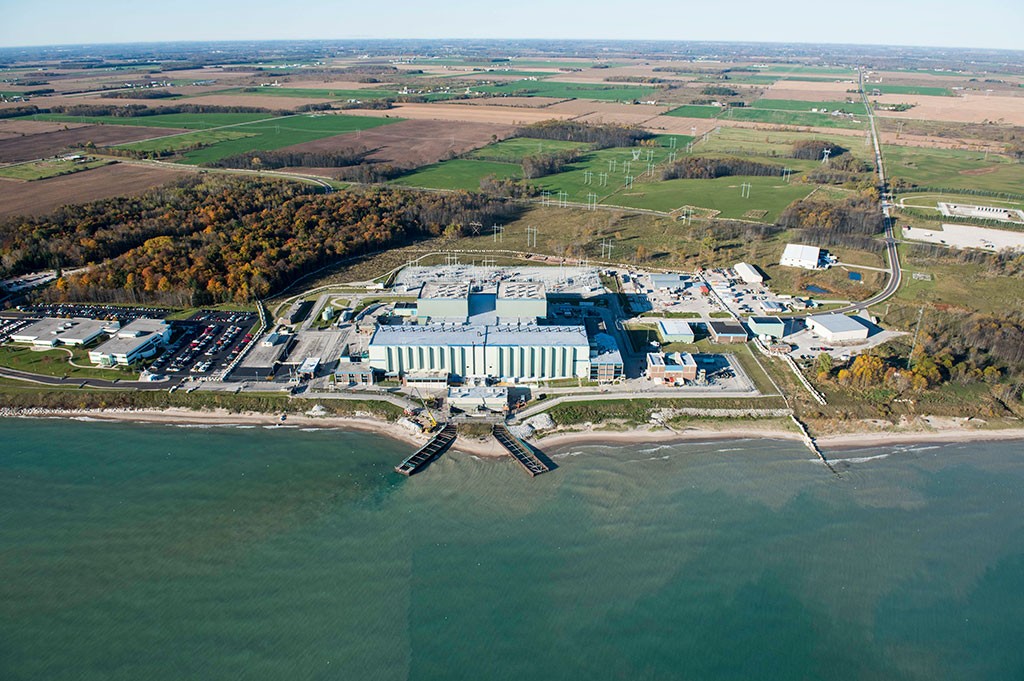 OUR COMMITMENT TO SAFETY
The Point Beach Nuclear Power Plant has an outstanding record of safe operations. It is designed to withstand earthquakes and other natural events stronger than ever recorded in the region.
In addition, many layers of security protect the plant. The Nuclear Regulatory Commission, federal and local law enforcement, as well as NextEra Energy's own expert security team, are always on alert to ensure that plant facilities are protected and secure. As part of our commitment to safety, we test our emergency response system signals regularly. Siren tests are conducted by local emergency management officials on the first Wednesday of each month at approximately noon and last about one minute.
Learn more about the Point Beach Nuclear Power Plant.
This website contains important emergency planning information for people located within 10 miles of the Point Beach Nuclear Power Plant. It was developed by emergency management officials and provides basic information about what to do in the event of a nuclear emergency.
EMERGENCY INFORMATION
Planning is an important part of NextEra Energy Resources' strategy to protect you and your family. State and local officials, together with NextEra Energy Resources, have prepared a detailed emergency plan to protect people who live, work, visit or go to school within 10 miles of the plant. The plan, which is updated annually, is tested by drills, evaluated exercises and inspections. Conducting emergency drills improves the overall readiness of local authorities and enhances their ability to respond to emergencies.
Complete Safety Information for Point Beach Neighbors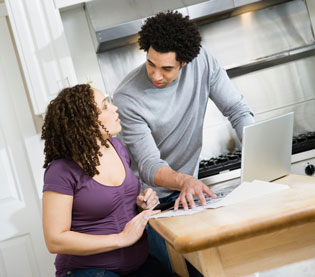 The emergency alert system will be activated in the unlikely event of an emergency at the Point Beach Nuclear Power Plant that requires you to take any action. When you become aware of an emergency, the best course of action is to monitor local radio stations for specific instructions and prepare to either evacuate or shelter in place if you are directed to do so.
How you will be notified
The emergency alert system will broadcast official information on local radio stations.
Alerts will be sent to your cellphone. If you have functional needs or do not own a cellphone, contact your emergency management agency to be registered for notification and assistance. 
National Oceanic and Atmospheric Administration (NOAA) weather radios will also broadcast official information.
What to do
Receiving an emergency alert does not necessarily mean you will need to evacuate the area. 
Review the Emergency Planning Zone to identify your evacuation route if you are instructed to evacuate.
There is an established plan to relocate school children if needed.  Do not attempt to pick up your children at their school. This causes traffic congestion, security risks and impedes the ability of authorities to move children to safety. Instead, review the plan and proceed to the appropriate host facility.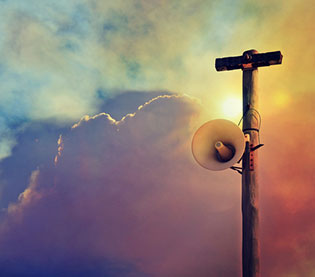 There are four emergency classifications at nuclear power plants. Each calls for a different level of response from plant and government personnel:
An Unusual Event is a minor incident such as severe weather and is the least serious of the four categories. Because of strict regulations, a number of events must be classified and reported as "unusual events" even though they pose no threat or danger to the public. Unusual Events do not require you to take any action.
An Alert is a minor incident that affects, or could potentially affect, reactor safety. There is the possibility of a small, limited release of radioactive material. It is rare for an Alert to require you to take any action. If action is needed, the emergency alert system will be used to notify you.
A Site Area Emergency is a more serious incident such as a leak from the reactor coolant system. Radioactive releases are possible, but will not affect the areas beyond the plant property. If necessary, officials will take action to ensure your safety.
General Emergency is the most severe emergency classification. Radioactive releases that could affect areas beyond plant property are possible. A major security event may also result in a general emergency. If you need to take action, you will receive an alert instructing you to tune to local radio stations for official information.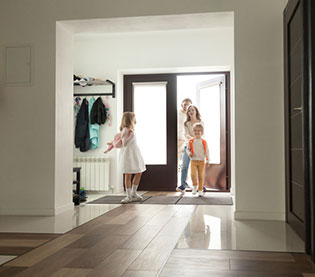 The intent of sheltering in place is for you to remain where you are or to seek shelter close by if you are in the affected area. Shelter in place instructions may also be given to keep roadways clear so others can evacuate rapidly.
If you are directed to shelter in place:
DO NOT pick up children at schools, preschools or registered day care centers; our plans include special precautions for children in these facilities.
Tune to an emergency alert system station, monitor the situation and prepare to take additional actions if directed by local officials.
Limit non-emergency phone calls. If you must use a mobile device, texting is preferred.
Do not evacuate unless instructed to do so through the emergency alert system.
If indoors:
Remain there until further notice.
Shut all windows and doors.
Turn off all ventilation systems that draw air from the outside.
Cover open food containers.
Go to an interior room or basement with no windows.
If outdoors:
Go indoors immediately and follow the "if indoors" instructions.
Wash hands and face before eating and handling food.
Take a lukewarm shower, if possible.
If you must go outside, cover your nose and mouth with a handkerchief or mask. Move quickly and limit outdoor exposure as much as you can.
If you are in your car, at work, or away from home:
Close car windows, vents, and shut off heating and cooling systems that draw air from the outside.
Turn your radio on. Monitor the situation and follow directions from local officials.
If your home is in an area being told to shelter in place, DO NOT try to go home. Leave the Emergency Planning Zone or enter a nearby building.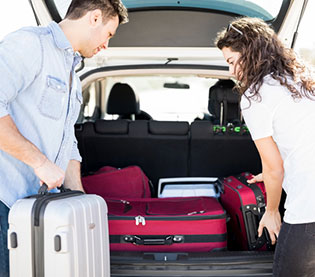 Evacuation is a precautionary move recommended for your safety. Please evacuate promptly once the recommendation is made. If you do not live in an area being evacuated, keep off the roads so the people who most need to evacuate can.
If you are directed to evacuate, you should:
Follow the evacuation route to leave the area. Evacuation routes will also be announced through the emergency alert system.
Close all windows, doors and vents.
Move quickly, but do not rush or panic.
Pack necessities for one week, including medical supplies, personal items, bedding, extra clothing, identification, important papers and baby supplies.
If you have room in your vehicle, take neighbors or friends who need a ride.
Keep car windows and vents closed.
Law enforcement will have patrols to ensure your property is safe. Only those authorized will be allowed into evacuated areas.
Emergency reception center information
Reception centers are established to monitor evacuees for radiological contamination. Short-term housing and food is provided. Please follow the evacuation routes to the reception center for monitoring and registration even if you and your family do not need housing.
Kewaunee County reception center:
Luxemburg-Casco Intermediate School
318 N. Main Street, Luxemburg, WI 54217
Manitowoc County reception center:
Manitowoc County Highway Shop
3500 State Hwy 310, Manitowoc, WI
Emergency transportation assistance
Emergency transportation will be provided along the evacuation routes for affected areas to those who have no other means of transportation. Contact Manitowoc County Emergency Management at (920) 683-4207 or Kewaunee County Emergency Management Agency at (920) 845-9700 each year to pre-register for evacuation assistance.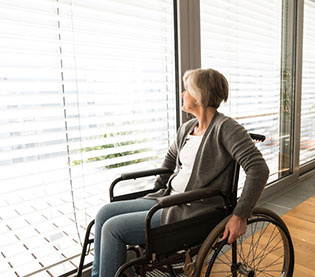 If you foresee that you, or members of your household, will need assistance during an evacuation, please register with your local emergency management agency each year so they can plan for your transportation and sheltering needs.
Register for evacuation assistance if:
You do not have access to a vehicle
You need an ambulance or wheelchair accessible bus
You need assistance to be led to safety
You need TTY or other special emergency communications
You need electricity for medical equipment
All information is kept confidential.
How to register:
Contact your local emergency management agency office:

Kewaunee County (920) 845-9700
Manitowoc County (920) 683-4360

Complete and mail the pre-addressed, postage-paid "Functional Needs" card.
During an evacuation
If you have not registered and need special transportation or shelter assistance during an evacuation, contact:
Kewaunee County Sheriff (920) 388-3100
Manitowoc County Sheriff (920) 683-4200
Registered individuals will be transported to a reception center
What if I am in the hospital or a nursing home?
Hospital and special-care facilities have emergency plans to follow and will transfer patients to another facility, if necessary.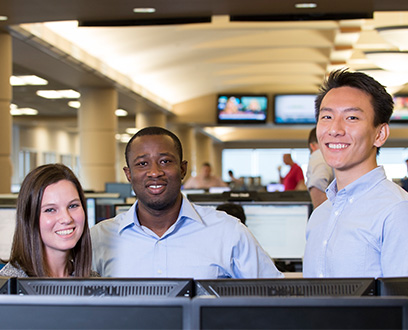 Understanding Nuclear Energy and Radiation
Benefits of Point Beach Nuclear Power Plant
Produces no greenhouse gases or emissions
Produces clean, reliable and affordable electricity
Provides hundreds of high-quality jobs for local residents
A leader in environmental stewardship in the region
An economic engine for the entire state
Understanding nuclear energy and radiation
Nuclear power plants create steam to turn the blades of a turbine to generate electricity. Nuclear power plants use uranium fuel in a process called nuclear fission to generate the heat to create the steam.
The uranium fuel inside the reactor is radioactive. It is securely contained and constantly monitored. The fuel is encased in ceramic pellets which are stacked end-to-end inside long metal tubes. The tubes are assembled into fuel bundles that are immersed in water in the reactor core. The core is housed inside a nine-inch thick steel pressure vessel. That vessel is inside a robust containment building made of steel-reinforced concrete.
Exposure to large amounts of radiation can be harmful to human health. However, given the nuclear industry's strong commitment to safety, such exposures are extremely rare and unlikely.
Many monitoring devices placed in and around the Point Beach Nuclear Power Plant can detect very small amounts of radiation. Plant operators are alerted if radiation amounts increase above naturally occurring background levels. The operators then quickly notify state and county officials.
What is radiation?
Radiation is energy that is given off as a particle or wave. Radioactive elements are naturally occurring in small amounts throughout our environment. In the United States, natural sources, such as radon products, account for the majority of the radiation we are exposed to each year. Radiation also comes from medical tests such as X-rays, CT scans and nuclear medicine studies. Normal everyday items such as smoke detectors also emit small amounts of radiation. Less than one percent of the radiation to which people are exposed comes from nuclear power plants.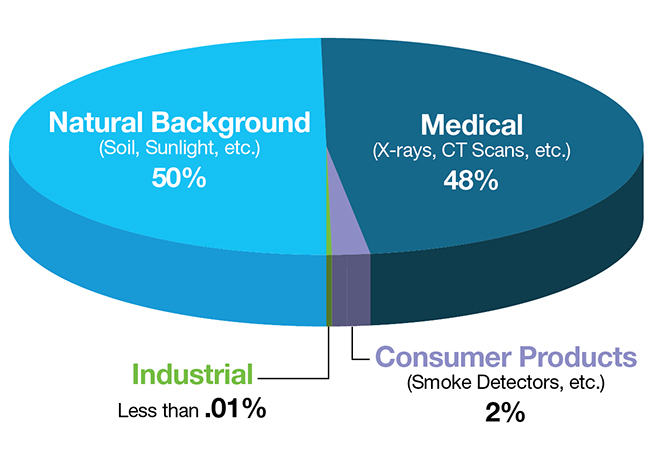 Source: National Council on Radiation Protection and Measurements Report 160 (2009)