INDUSTRY LEADER

NextEra Energy Resources is the world's largest generator of clean, renewable wind energy. Over the last decade, our wind energy capacity has nearly tripled. We have the largest market share of North American wind capacity.
BENEFITS
Clean, Reliable and Affordable
With 119 wind farms in operation, wind energy is affordable, good for our environment and our economy. Wind energy provides millions in tax dollars and landowner payments. It also creates jobs and boosts local economies.
WIND FARMS

From Start to Finish
Once approved for construction, wind farms can be built quickly in comparison to other types of power-generating facilities. Throughout the process, we are respectful of the environment and our neighbors. We work with the community to achieve the best results for all involved.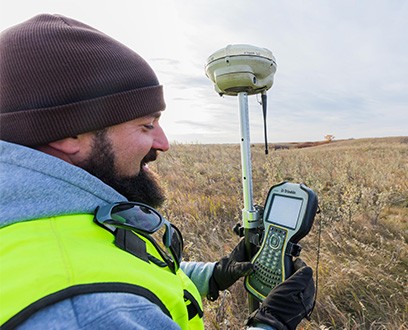 Siting a wind farm can be challenging. We must find the right combination of wind conditions, power transmission lines and land to accommodate the wind farm.
NextEra Energy Resources pursues potential wind farms in areas where the wind blows steadily. The ideal average wind speed is approximately 25 to 35 miles per hour.
Wind facilities must also be near high-voltage transmission lines that can carry power over long distances. These transmission lines must have the capacity to handle the additional generation.
Our developers work with landowners to walk them through the process, meet with local officials on project progress, conduct environmental assessments, complete historical and archaeological reviews, arrange connection to the power grid, secure customers for the site's generated electricity, attend public meetings to gain approval for construction, permitting and land use zoning; and procure the necessary equipment for construction.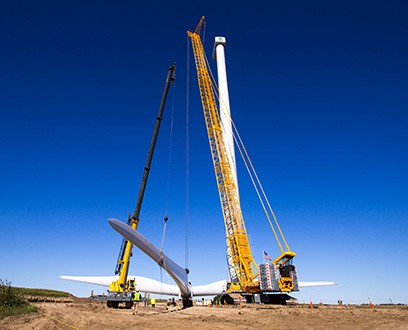 Our wind farms can usually be built in six to nine months. Steps include:
Build access roads to bring in construction equipment;
Install underground electric cables beside the access roads;
Pour wind turbine foundations;
Construct a substation, and an operations and maintenance building;
Bring in turbine equipment;
Use cranes to erect the turbines; and
Test and commission the completed turbines.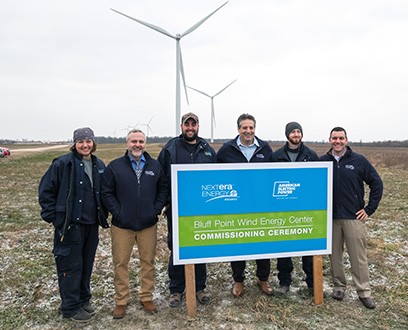 Once constructed and tested, the wind turbines can be commissioned, meaning they are ready for operation. We have experienced operations and maintenance managers at all our sites. Our local staff is supported by centralized maintenance and environmental staff. Our sites also have remote support from an around-the-clock Renewable Operations Control Center.